I bought this car from the previous owner down in Pembroke Pines, Florida in March of 2007. It had 66,000 original miles on it, and was already well modified. It already had an FMII turbo kit with the Link EMS, fender flares, SM 002 wheels, FM Happy Meal clutch/flywheel combo, SS brake lines, and most notably, a Cusco 1.5 Way LSD. I knew this was a great platform to start with, since most of the expensive toys were already out of the way.
Here's when I bought it (minus the Runabout mirrors):
I may miss some small details, but this is the majority of the progress so far.
After buying it, the first thing I did was take off some of the unnecessary gold heat reflecting tape in the engine bay. Inside the car, I took the boost gauge out of the vent in the center, and I ordered a full pillar dual gauge pod and a 3-gauge radio mount from DDMWorks. My previous toy, a turbo'd 2002 Saturn SL sedan (which was the biggest pain in the *** ever, but no other driver ever expected 250whp out of a car that made 86whp from the factory), had just been totaled, so I still had all of the AutoMeter Cobalt gauges. In they went along with my AEM UEGO WBo2 sensor and my Pioneer 7" touchscreen DVD player.
I snagged a hardtop in Biloxi, MS for $350 and while there, the OEM clutch line blew right under the crimp. A DIY hardline formed from some parts at Advance Auto Parts, and I was on the way back home. Immediately after, I ordered a SS clutch line.
I started getting hot in the summer, so I ordered a set of vented quarter windows from OKMiata, which work great and getting fresh, cool air into the cabin. At the same time, I took off the red faux suede door panels, and put the OEM black door panels back in.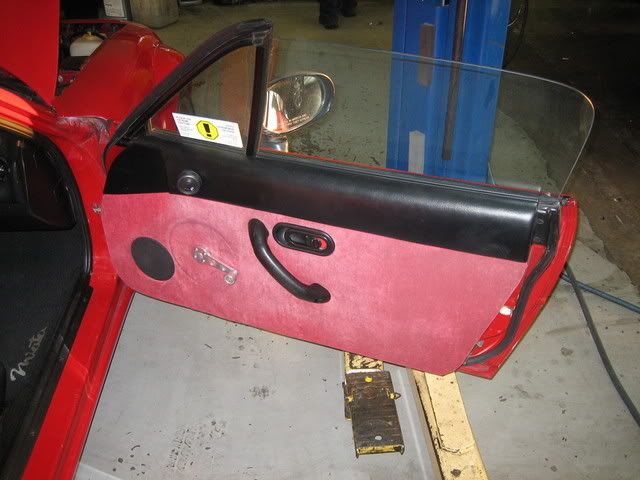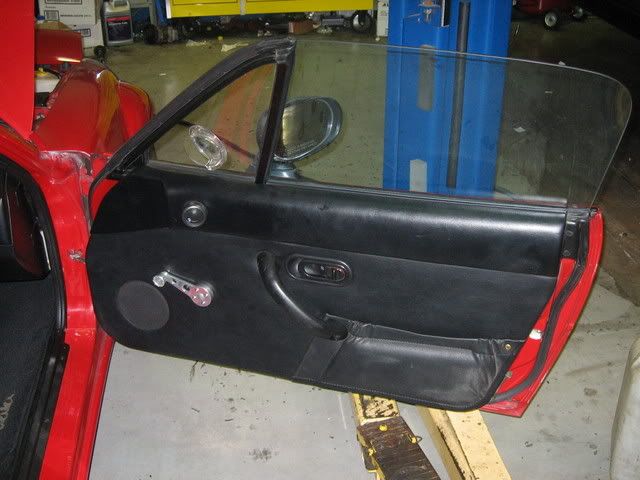 The car came with Brainstorm's low profile headlight setup, but those things threw light everywhere, and generally were just not what I wanted. I was about to convert back to OEM headlights with some better lights, but then scored a set of Moss Motors low profile headlights on eBay for $150.
And to show how much the BSP lights threw light everywhere compared to projectors: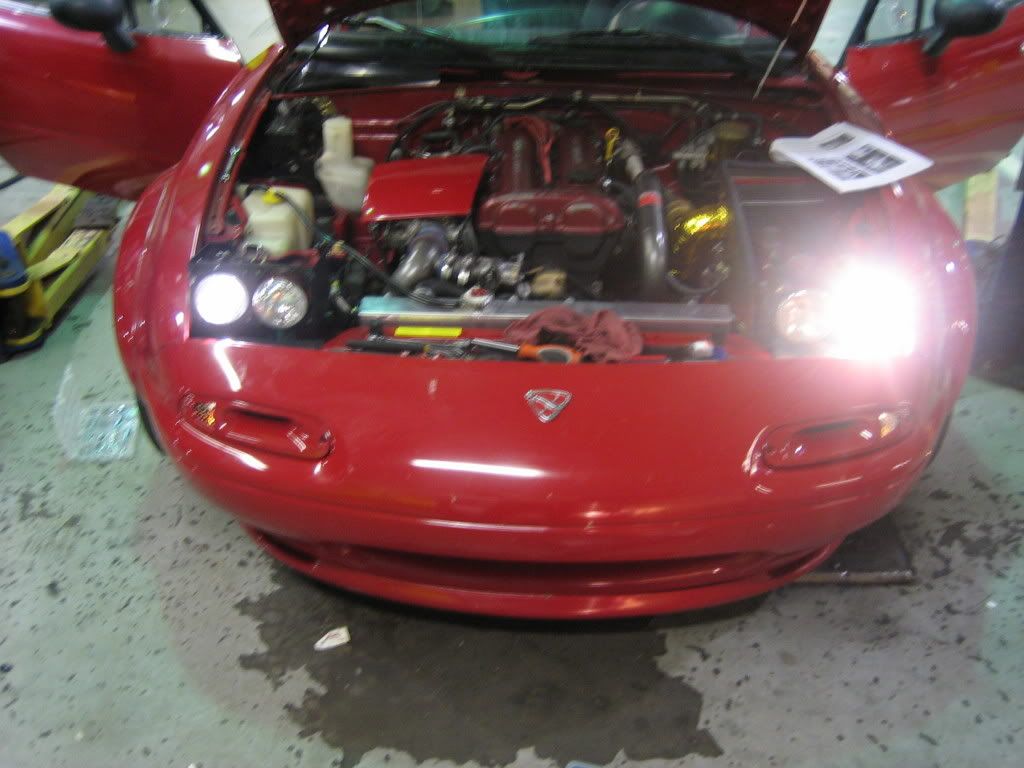 Then I got a Tanabe front strut tower brace from Stealth97, a radiator cover panel from BEGi, a VooDoo shift knob, a Momo Champion 350mm steering wheel, some Rockford Fosgate 3.5" headrest speakers, and ditched the high-flow cat in favor of an FM resonated test pipe.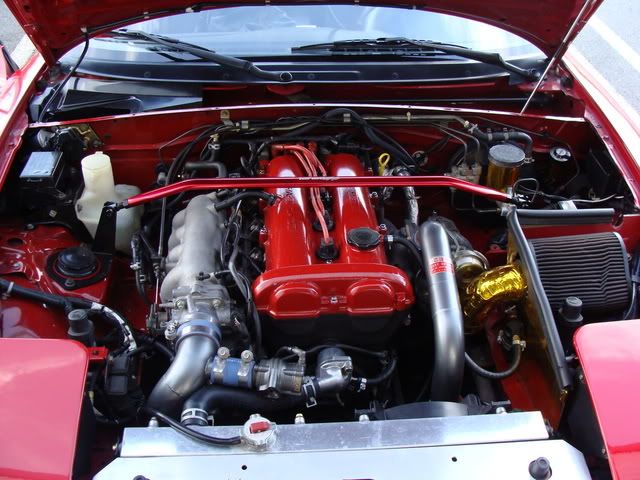 Very soon after I bought a Zoom Engineering PNP push-to-start button, Beatrush rear strut tower brace, and a Devil's Own Progressive Water/Meth Injection kit. (And I mounted the tank on the spare tire bracket that came with the RSTB.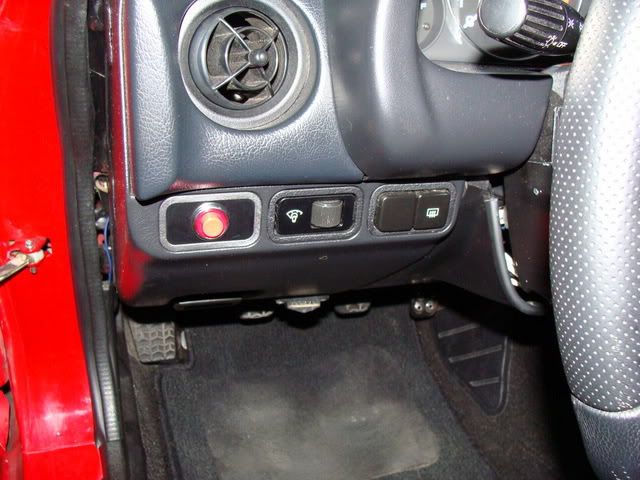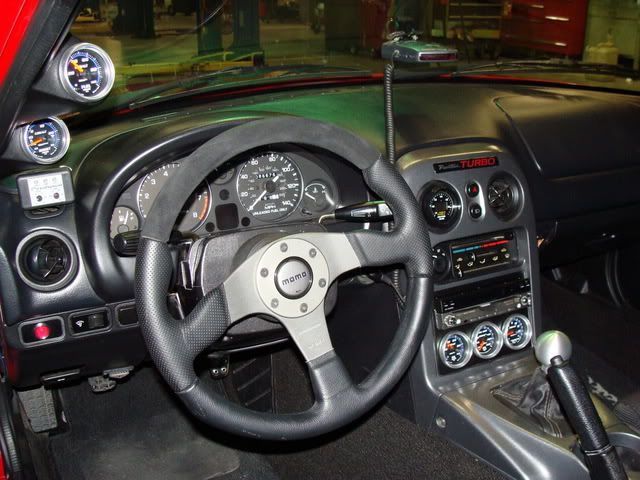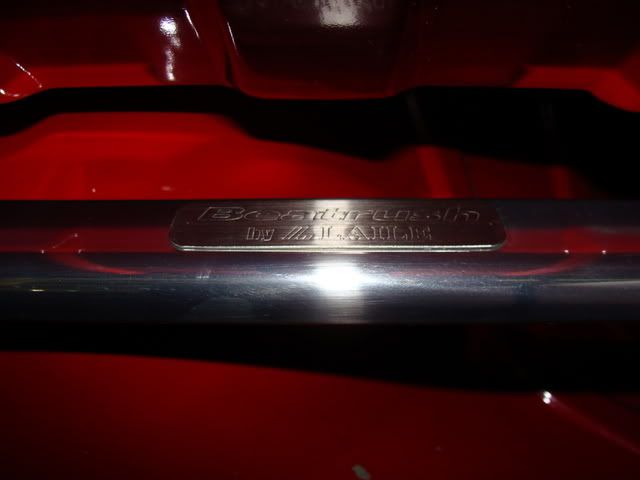 I wanted a stiffer front strut brace, so I snagged the Cobalt 3-point brace when they offered a deal at RSpeed.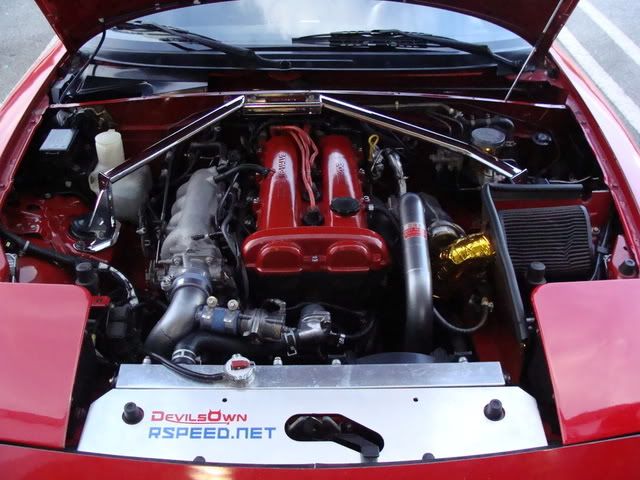 Not happy with the original downpipe from the FMII kit, I ordered a BEGi divorced gases downpipe right before they raised their prices: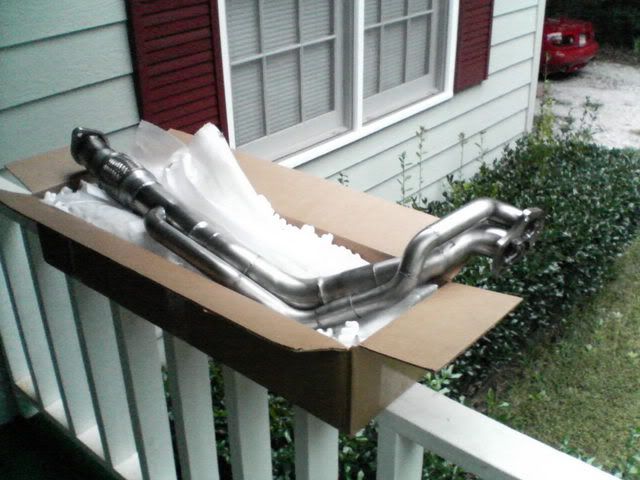 That downpipe has been a headache from day 1. The first one they sent me had both WBo2 bungs pointed straight down, and some other smaller issues. I then waited 8 months for a replacement, which still wasn't right. Still don't have it completely right, but they're going to fix it.
Sometimes the small things bother me, and I was tired of seeing this:
So I got this: